Of all the Fashion Weeks slated throughout the year, the Haute Couture shows, while beyond gorgeous, aren't exactly where you'd expect to encounter many surprises.
Yet the fall '16 couture runways, which just wrapped up in Paris and Milan, delivered some unexpected twists. Yes, the breathtaking fashion was there, but there was a sense of, well, disruption. We know, we know: That word feels tired and almost devoid of meaning for the fashion crowd, given the ongoing upheaval of the traditional show schedule, not to mention the myriad ways brands are toying with the show format. It's not a descriptor that often comes up when we're talking about this hand-worked, incredibly detail-oriented craft, but it's fitting for the latest wave of haute couture.
Given all the changes in how we consume fashion and the cost- and labor-intensive nature of this particular métier, the whole meaning of couture is being called into question. And, while we can always expect some collective cooing at the sheer detail of the clothes making their way down the runway, this year's collections were more out-there than usual.
Plus, Vetements, the streetwear label and, basically, the most talked-about fashion label these days, was present, showing its spring '17 with the help of some familiar mall brands in the same timespan (but certainly not on the same official calendar, or with the same accreditation) as the Chambre Syndicale de la Haute Couture-vetted houses.
There was also plenty of drama compared to the spring '16 shows, both in terms of silhouette (from sculptural sleeves to duvet-like cascading gowns) and embellishment (think sturdy, plastic wrap-esque bodices and Swarovski crystal-coated silicone). This season, collections were described as "topsy-turvy," "opulent," and even "wearable," on top of the standard reaction, which is something along the lines of "oooh, prettyyyyy. " Ahead, we highlight some of the zaniest and straight-up incredible looks from fall '16 couture.
Black, white, and extremely elegant all over: Giorgio Armani Privé kept the color palette very restrained — basically rendered completely in black-and-white. The collection was anchored on sleek, nostalgic silhouettes that recalled the sophistication of the '60s and '70s.
Across all its brands, Versace oozes sexiness, whether via dramatic slits or body-hugging fabrics. But in its latest couture collection, the brand's sensuality was more subversive: Instead of strategic cutouts, an off-the-shoulder silhouette or a pencil-fit midi-skirt showed off skin. Donatella also rallied a fascinating group of models to don the collection: Bella Hadid, Karen Elson, Joan Smalls, Irina Shayk, and more.
This season marks Iris Van Herpen's couture calendar debut. But the Dutch designer has long been praised for the incredible craftsmanship of her truly artful designs. If this intricate minidress isn't enough proof, Visionaire pulled the curtain back on the process to show exactly what goes into a single fall '16 couture look.
Our Recommended Books
Adeline Andre sent out a parade of head-to-toe monochromatic looks. A standout was this sheer tulle gown, layered over a short playsuit, lending an ethereal quality to it.
This Alexis Mabille couture gown has a certain draped-duvet-cover quality to it — and we're very into it. Plus, fancy-dress sheer leggings, which we first spotted on Naeem Khan's bridal runway, make an appearance on the couture circuit here.
There are certain runways that feel almost like theater, truly leaning into the drama of the clothes on display. Jean Paul Gaultier has mastered this effect over the years — and this shot of Anna Cleveland showing off a metallic draped coat made us instinctively go "YES!
Yuima Nakazato made quite a debut on the couture calendar with his iridescent creations, which are made from hologram PVC. Plus, the designer is reportedly working on integrating the see-now-buy-now conceit into the couture business: "The methods and material developed in this couture collection will be made available right away in stores," Nakazato told The New York Times . "I am currently planning a new system of combining made-to-order and ready-to-wear," he continued, which he deems "the future of fashion in couture."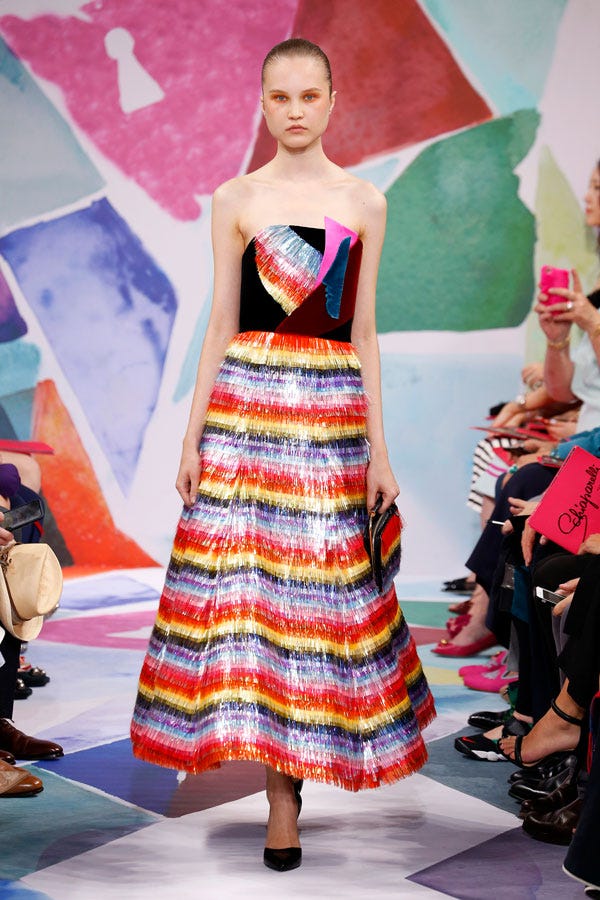 Schiaparelli is another one of those couturiers that elicits many a sigh as each new creation hits the catwalk — not only because of the incredible craftsmanship, but also for its truly delightful themes. This season, the brand looked to the circus, and the house's past: Elsa Schiaparelli designed a Big Top-inspired collection back in 1938. The result: a very playful color palette and lots of embellishments. Want a closer look at Schiaparelli's magic? The New York Times built an interactive "making of the look" feature for one of the brand's fall '16 dresses.
Our Recommended Books
The silhouette of this nude gown may feel traditional. But the way the sheer fabric reveals some of the dress' inner workings — including a petticoat and corset — gives this Julien Fournie couture gown a contemporary, in-progress quality.
Giambattista Valli is perhaps best known for his frothy, smile-inducing gowns. (Never forget that iconic Rihanna moment from the 2015 Grammy Awards.) His namesake brand's fall '16 couture collection certainly had some of that. But all that pretty poufy-ness was presented alongside more demure minidresses — and one particular balloon-sleeved crop top and slim-fit trousers that piqued our interest.
For fall '16, Chanel Haute Couture had less tweed and more bare shoulders than usual. But our favorite surprise was by far the finale. At the "inside the atelier"-themed show, Karl Lagerfeld had Chanel's petites mains actually working on the looks on the runway as models walked past; instead of stepping out take a bow with a Kendall Jenner or Cara Delevingne on his arm, Lagerfeld walked the course of his stage alongside the women of the atelier — a.k.a. the true heroes in this couture story.
For her sophomore appearance on the couture calendar, Guo Pei presented an array of festive dresses and gowns, metallic layered fringe and all. So, will we see this ruby number on Rihanna anytime soon?
When Zuhair Murad's lady in red makes her way down the fall '16 couture runway, every single part of her lewk — from sheer lace gown and beaded coat to wide-brimmed hat and lace-up sandals — is an expertly matched shade of ruby.