No matter what you're grilling, you want to make sure it doesn't contain any bristle.
That is not a typo. I did not mistakenly hit "b" instead of "g," although yeah, you don't want any gristle in your meat, either.
But plug "barbecue" or "barbeque" into the National Library of Medicine's Pub Med search engine, and you'll see a surprising trend:
Along with ribs, steaks and burgers, some people are swallowing wire bristles from the stiff brushes used to clean grills, and those things don't go down easy.
An article published in February in the Annals of Otolaryngology, Rhinology, Laryngology reported that a couple dozen or so cases of "accidental wire bristle ingestion" have been published in the medical literature (note that the third author's name is Grillone. Get it? Grill one. I am not making this up).
Who knew? In my family, we stick with traditional gender roles when it comes to our backyard grill. My husband wields the tongs, fork and spatula. And grill brush. Turns out he has two and seems rather proud of the fact.
I'm going to have to check those grill brushes for bald spots and the grill for stray bristles, because, like Grillone and company, I came across case report after case report about people who accidentally–apparently, this is not the Independence Day version of razor blades or needles deliberately implanted in Halloween candy–swallowed a wire bristle from one at a cookout. (Snopes.com says there's not even such a thing as the Halloween version of razor blades or needles hidden in candy distributed to random trick-or-treaters. However, a 14-year-old girl in Ohio reportedly found one in a Snickers bar this past Halloween. Please tell me why a 14-year-old was trick-or-treating in the first place. But I digress.) Bristles can become dislodged when scrubbing down a grill, especially if the brush is old and has seen better days.
Those bristles are tiny things. One helpful case report, published last year in the American Journal of Emergency Medicine, included a photo of a bristle that had been removed from a woman's throat. To put its size in context, the authors had placed the bristle next to a paperclip that was about 1 3/4 inches long. The bristle was way finer and shorter than the paperclip, which I guess explains why the woman didn't notice it in her steak.
Our Recommended Books
Despite their diminutive size, grill brush bristles can wreak havoc on your innards.
Take the 50-year-old man who showed up at the emergency department when he began having abdominal pain after eating a steak at a backyard barbecue. A computerized tomography (CT) scan of his abdomen and pelvis revealed a straight object poking through the wall of a loop of his small intestine, Brown University physicians wrote in the Centers for Disease Control and Prevention's Morbidity and Mortality Weekly Report (scroll down to page 14). The CDC posted the Brown docs' article online first on July 3, 2012, a few summers before the Zika virus became the agency's most pressing seasonal concern.
Surgeons had to make an incision in the man's abdomen to pluck out what appeared to be a wire bristle from a grill-cleaning brush. The good news is the man fully recovered and was discharged the next day. A total of six patients showed up in their emergency department in a span of 17 months after inadvertently swallowing a wire bristle, the Brown physicians reported in MMWR . "Patient interviews revealed a common history of recent ingestion of grilled meat," the doctors wrote.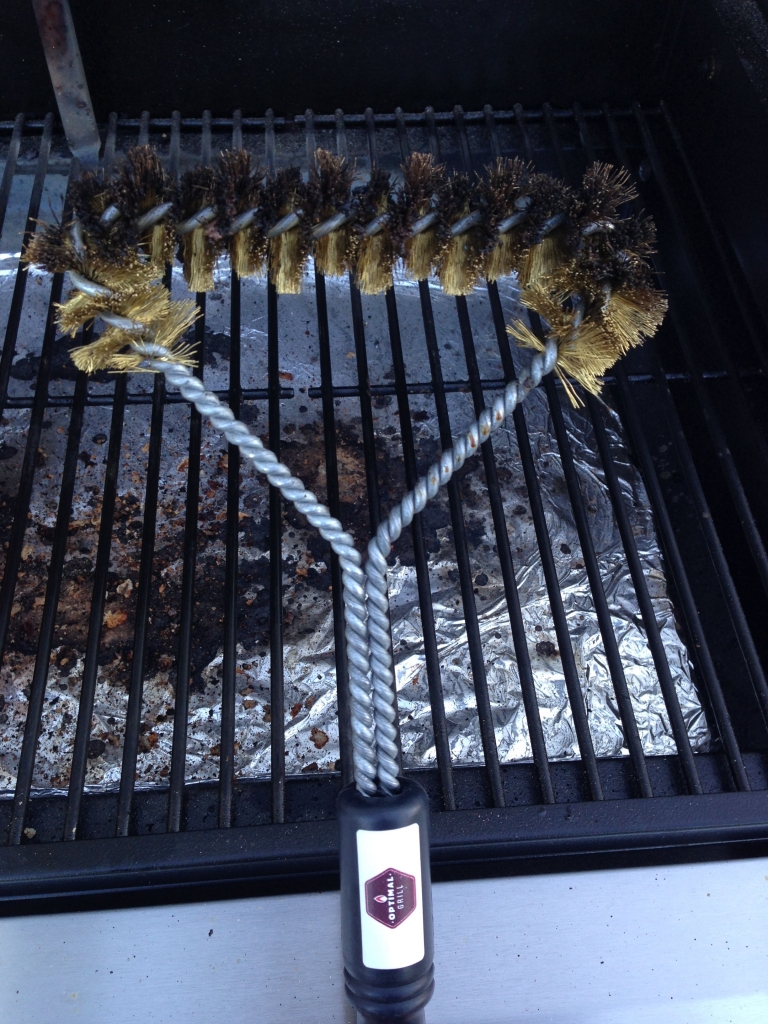 Surgeons from the University of Texas Health Science Center at San Antonio in May reported in The American Surgeon on six patients who showed up at their emergency department after swallowing grill brush bristles. The doctors wanted to try to identify risk factors for bristle swallowing, so "we arranged for in-home visits to inspect the grill and grill brush whenever possible," they wrote. Turns out none of the patients had replaced their grill brush in at least two years.
Doctors from Wilmington, Del., last year reported in Pediatric Emergency Care on a teen girl who came to their emergency department complaining of abdominal pain, which, they said, is a common complaint of teen girls who come to emergency departments. But the reason for this girl's pain was not so common. X-rays showed a foreign object in her abdomen. "Emergency department physicians discovered the history of grilling and consumption of grilled food, facilitating diagnosis of a wire bristle as the foreign body," the physicians said. Said bristle had made it all the way to the girl's large intestine, perforated it and lodged in her abdominal wall. Ouch. Fortunately, surgeons were able to remove it via minimally invasive laparoscopic, or "keyhole," surgery.
None of this suggests you have to ditch the barbecue and order in pizza or Chinese food for your celebration. But doctors have a few common-sense suggestions before you throw a steak on the coals.
"Before cooking, persons should examine the grill surface carefully for the presence of bristles that might have dislodged from the grill brush and could embed in cooked food," the Brown Universityphysicians advised in the MMWR .
And for goodness sakes, if this is like the fourth or fifth Independence Day for your grill brush, go out and buy a new one. Or, the doctors say, you might want to stop using a grill brush altogether and switch to another cleaning method.